Below is a Quality Tool/Technique to help Managers.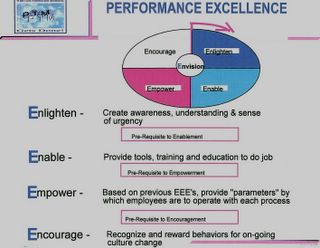 5Es for Employee Excellence - Double Click Pic to Enlarge
(qg - 1992)
Updated 9/14/06
I have added another E to my Model. It is called

"Execute"

and it comes after Empower. There must be proper

Execution

in order for the performance to be Excellent regardless of how much Empowerment is granted. Many Managers Encourage and Reward Efforts regardless if there good or bad because they don't know.
Updated 2015:
Envision + Enlightment + Enablement + Execution (added in 2006) + Empowerment + Evaluate + Encouragement = Employee Excellence. I call it the 7es.