Since my post on Creative - "It's in the Art," I have received Emails directing me to see more creative students and their displays of Art.

Self-portraits are qualityg's favorite type of Art (i.e., Vincent Van Gough). I saw a number of them today at the local library. A 9th grade student named Rachel did my favorite. I understand the artist is also an outstanding student.A creative qualityg Kudo to Art Teacher Karen Zurakowski, and her class for a great creative artistic display.
http://www.sgate.k12.mi.us:16080/~Zurakows/artwork2004/
artwork2004.html
Hey Rachel, now that your in the ninth grade and doing so well I think your Mom and Dad should get you a car so you can take your Art show on the road.

uqg (my self portrait is a stick man)
p/s - qg kudos to both of my kids who made the deans list for the second time this year at MSU! And, for finding summer jobs!
qg kudos to Kristen for taking "the long and winding road" to graduate, it certainty has led to a door at your new job and office.
qg kudos to Beth for taking a risk and showing her independence.
qg kudos to Lindsay, Grahm and Joe as they continue to travel and learn in Australia, New Zealand and the United Kingdom.
qg kudos to Michael who continues to find his way in Texas.
qg kudos to Stephen down in Florida who is planning on studying at Oxford this summer.
updated 5/23/05
qg kudos to my God Daughter "Carly" who is NOT vain and this post is about her.
Carly - your growing up so fast, and I sure am proud of you!



updated 6/15/05
qualityg kudos to : The Durfee Boys of Durfee Elementary & Middle School in Detroit for participating in the eCYBERMISSION National Finals Competition for sixth - to ninth graders. The boys beat out 1,150 teams in the Regional Science Competition!
read story @ http://www.freep.com/news/locway/durfee15e_20050615.htm
updated 6/21/05
qualityg kudos to: SBR - qg is often rough on instructors, but he also exalts those that do a great job. This summer I had the privilege of being in a class taught by Mrs. SBR. She does a great job by modeling what a teacher should be, she is respectful, professional, fair, honest and knows her stuff! The class I was in was small, which made it much more enjoyable. My classmates were great people and I learned a lot from both the instructor and my peers.
updated 6/30/05
Chris,
qualityg has some very neat nephews and nieces. My oldest nephew Chris was visiting from Atlanta the last few weeks. Well it wasn't a planned trip he was here to see his Grandfather (father-in-law) who was in the hospital with heart failure. Chris has a special spot for his Grandfather (Grandmother too) since he helped raise him and considers him more as a father figure.

So why is he so special? Because he is Chris, unfortunately he didn't have a so-called normal childhood but he has a mother who did her best and relatives on his mother's side who care about him while he lives his life in Atlanta.

I picked Chris up from his Grandmother's house this morning at 4:45AM. As we packed the car with luggage the windows were down and U2 (streets with no name) was blaring from my CD. Geez, uncle qualityg I forgot how crazy you are! Driving to the airport I hit through the CD with a wide variety of tunes (from Louie Armstrong to Super Tramp to Eminem). Chris guessed every song right and was impressed when I told him Eminem was one of my favorites (he's honest, he's tough, got guts, talented and he is from Detroit).

As we said our good byes I watched him walk into the terminal and thought to myself, he's a survivor, he's a good kid, he's now a man and he will be OK.

My Favorite Hibernian,
How ironic, wearing my Scottish shirt (Brother-in-law Bob bought for me while in Scotland) today and received a post card from my buddy Thadeaus who is currently vacationing in Scotland the land of my ancestors.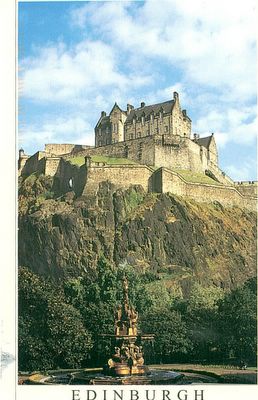 Thad is as Irish as they get and he likes me because I have some Irish too. He now lives in Vermont but travels quite frequently during his retirement.
He is one heck of a Hibernian and a quality guy too.
updated 7/4/05
The Girls of Summer
Special qg thanks to Rudy and Mike for supplying the boat and tube rides!
click on pictures to enlarge


Robbie & Gina don't get mad, I could have picked the other pictures, Buddy didn't mind!
So much for the pool